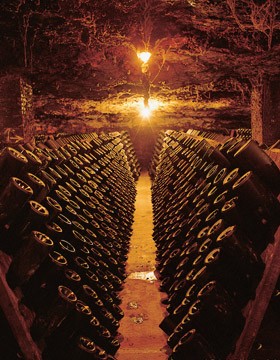 OorsprongCelebrating our Winemaking
Onze thuis hier in de Penedès, ten zuidwesten van Barcelona, is ook gekend als Cava land. Het is een landschap van glooiende heuvels, beschermd van de oostenwind aan de Garraf Massif en van de koude noordelijke wind aan de steile Montserrat berg. We zijn gezegend door de natuur met een rijke rode bodem en urenlang zonneschijn.
Dit is een perfecte plaats om onze wijn te maken. Maar niet zomaar eender welke Spaanse wijn: dit is Cava. Een beschermde beschrijving van wijn, die moet voldoen aan de meest strenge regelgevingen om zo genoemd te mogen worden. Deze bevatten onder andere het gebruik van enkel specifieke druivensoorten en wat genoemd wordt de "Método Tradicional", waarbij de wijn een tweede fermentatie in de fles doorgaat. Elk jaar worden onze druiven en die van 2.000 partners naar onze wijnmakerij gebracht, hier in Sant Sadurni, waar deze magische transformatie in Cava plaatsvindt.
Macabeo
De witte Macabeo druif is het meeste belangrijke stukje fruit in onze Cava. Hij rijpt vrij laat in de lente en mist zo het begin van de vorst. Hij bezorgt de eerste fruitige toetsen, een aroma van wilde bloemen en een notige, amandelachtige smaak.
Xarel·lo
This grape adds body, strength and personality to Cava. Our wine makers talk about this grape adding earthiness, a rich flowery aroma and pear/melon flavours.
Parellada
Enkele van de hoogste wijngaarden in Europa bevinden zich in de Penedès en het is ook hier dat onze derde druivensoort, de Paralleda, domineert. We gebruiken hem voor onze wijnen een boost te geven van citrus aroma's en de Cava een delicate toets te geven.